Integral Yoga Day
Celebrate with us on October 7th
"The very definition of Yoga is tranquility. Equanimity in body and mind is Yoga.  Real Yoga is functioning with tranquility in the midst of activity."  ~Sri Swami Satchidananda
Few organizations of any kind can claim to be 50 years old, and in the Yoga world, there are even fewer. Integral Yoga® was proud to welcome 2016 as the year we celebrated a half century of service. Established during Integral Yoga's 50th anniversary, we now observe October 7th annually as: "Integral Yoga Day." During this annual celebration of our lineage, we encourage all of our centers and teachers globally to hold celebrations of whatever kind they choose. And, in the spirit of service, we encourage our teachers to offer free Yoga classes in as many communities and settings as possible on Integral Yoga Day.
Why We Celebrate Integral Yoga Day
The contributions of Swami Satchidananda and Integral Yoga to Yoga in the West are vast.
A few milestones as a Yoga trailblazer:
Created one of the first Yoga Teacher Training & Certification Programs
Initiated one of the first Yoga programs in prisons and drug rehab centers
Founded the first Yoga magazine (Integral Yoga Magazine)
Established one of the first residential Yoga ashrams (Satchidananda Ashram–Yogaville)
Published a translation and commentary on The Yoga Sutras of Patanjali that became the top-selling edition of this Yoga classic
A few milestones as a wellness pioneer:
Lectured widely, including at medical schools and conferences, on the healing power of Yoga
Inspired integrative health pioneers like Dr. Dean Ornish and Dr. Mehmet Oz
Advanced our understanding of the mind-body connection
Opened first of its kind (and still only one of its kind) vegetarian health food store in New York City and later in Virginia
A few milestones as an interfaith visionary:
Developed the first interfaith silent retreat and interfaith retreat center
Created one of the first interfaith worship services
Cofounded the first interfaith seminary in America
Inspired the first interfaith kirtan
Built the first interfaith shrine in America
Sri Swami Sivananda, Swami Satchidananda's Guru, founded the Divine Life Society and taught Poorna Yoga, which Swami Satchidananda translated as "Integral Yoga," for the West. The distinctive teachings that Swamiji brought with him integrated the physical discipline of Yoga, the spiritual philosophy of India, and the interfaith ideals that he was soon to pioneer in the West.
Swami Satchidananda Arrives
It was the summer of 1966 in New York City when pop artist icon Peter Max introduced his friends—a lively group of artists, photographers, musicians, and hip and aware folks—to Sri Swami Satchidananda, who had arrived for a 2-day visit arranged by filmmaker Conrad Rooks. When Swamiji first arrived in the West in 1966, Yoga was largely unknown in that part of the world. There were no Hatha classes at the local YMCA. Health food stores contained only bottles of vitamin supplements and photos of body builders. Few understood the meaning of karma. When most people thought of a yogi, they remembered a popular cartoon man sleeping on a bed of nails. All this changed when Sri Swami Satchidananda arrived in the West.
It took only a few evenings in Swami Satchidananda's company and a few Yoga classes to inspire Peter Max and friends to request Swamiji to extend his stay in America. Swamiji agreed and began to teach classes in Hatha Yoga, lead kirtans, and give talks—all from his temporary residence at the Oliver Cromwell Hotel. Soon, his enthusiastic students rented a larger apartment at 500 West End Avenue and founded the first Integral Yoga Institute on October 7, 1966.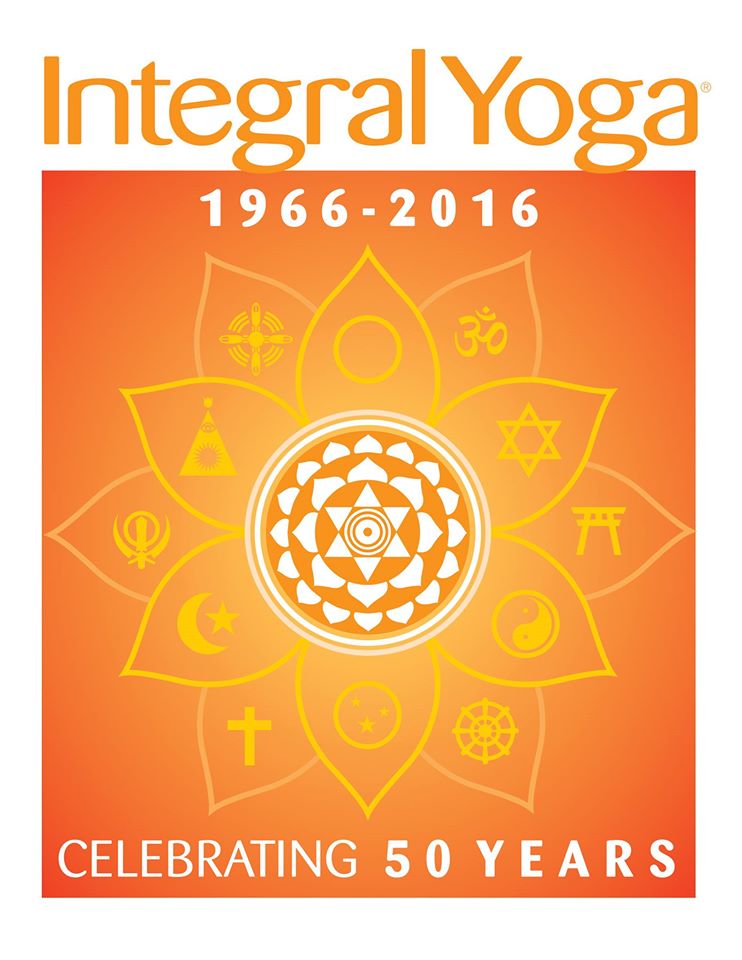 An International Organization
Those Yoga practices and philosophy influenced a generation and spawned a Yoga culture that is flourishing today. As Peter Max noted in a 2018 interview in Forbes Magazine, "I brought Swami Satchidananda to America in 1966 and we founded the Integral Yoga Institute in New York City together. It's now the largest Yoga organization in the world with centers on six continents. He also founded Yogaville, a spiritual and Yoga oasis. He wasn't the first Yoga master to come to America but with his opening words at Woodstock and the creation of the Integral Yoga Institute, he helped modern Yoga take firm roots here, and introduced it to thousands, if not millions of people here in the U.S.A."
Creating Leaders in Modern Yoga
Today, Integral Yoga International is emerging in response to the needs of the times, the sweet fruit of the seeds sown by Swami Satchidananda. The Integral Yoga global community includes over 5,000 Integral Yoga teachers—many of whom have become leaders in the changing paradigm of modern Yoga and healthcare, as well as founding successful programs for specific populations. All the while, they continue to maintain a deep reverence for the classical foundations and integrity of the Integral Yoga tradition gifted to us by Swami Satchidananda.